It's that time of year again! Usually, we do 12 Days of Christmas -but WHOA, this month flew by fast, I didn't get a chance to run the campaign the way I'd like. However, we couldn't end the year without doing an awesome giveaway!
The writers and I decided, we'd share some of our favorite products that we discovered this year. As your natural hair journey changes you'll realize that you start to use different products. This gift basket is filled with more than $150 worth of beauty products - all handselected by the staff of Natural in Nashville! Scroll below to read SOME of the items featured in the basket (we are adding new things everyday!
a Rafflecopter giveaway
From Ashiya
:
Paddle Brush + Nature's Blessings Pomade
The best thing I did for my hair all year long was purchase a paddle brush.  Every time I use it, I ask myself how I made it this long without it.  After moisturizing my scalp, I use the paddle brush to massage product into my scalp and to encourage hair growth by stimulating my scalp.  While the goal is to strengthen my roots and ultimately my locs, I am driven by instant gratification.  I live for those massages now.  After years of trying to remedy a dry, itchy scalp in winter, Amber's advice was perfect. After hearing a few of my favorite naturals rave about Nature's Blessings Hair Pomade, I decided to give it a try.  While it has not become my go to daily, I do use it often.  While I still need other oils to maintain moisture balance,  I appreciate the softness Nature's Blessing brings to my new growth which allows my locs to free form with a bit more ease.  
For years, I've worked on finding the right combination of shampoos for my locs.  After a little more education on hair health this year, I may not have found the ultimate, but I have found a new staple.  Shea Moisture's Raw Shea Butter Moisture Retention Shampoo is one of the shampoos that naturals happily share with me often, so I gave in when Walgreen's had them on sale earlier in 2013.  I gave in to ALL of them, but the Moisture Retention Shampoo was consistent despite the cleansing shampoo I used.  A quick wash and my locs are back to their best.  For now, this one is official.  
If you've ever considered trying black soap, I've had my best experiences with Dudu Osun.  Some black soaps tend to leave my skin feeling stripped as opposed to clean, but I have not had that experience with this one. Made with natural plants and herbs, I initially intended to use it as a facial cleanser but immediately began using for total body because of that quality. Another reason I love it is because its easy to find at most local stores that carry shea butters, oils and other natural products.
From Candice
: I'm putting in some homemade shea butter mix. It's the bomb. Hair. Body. All of me loves all of ingredients. Great for winter, but I made it a little lighter just in case the winner doesn't like weighty products. I love it because natural works better for me. And I made sure it smells amazing because... Why not?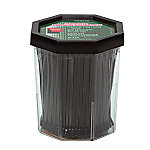 Also, I'm giving awesome
MetaGrip
Bobby pins.  Regular pins are flimsy, and leave paint flecks in your hair. And it can take so many to hold up a style. And those little balls on the end peel off.  These pins are like super woman. Everyone should have some.
From Melissa: One n' Only Restorative Mask - I LOOOOVE this conditioner. I use it all the time when I've been neglecting my hair. It's super thick and makes your curls and coils BOUNCE back. I was introduced to this product when I got my hair done at the salon. I swear when you use it, after shampoo'ing your hair will thank you.
Click here to read my full review.
Aphogee Moisturizing Shampoo
- I've been using this shampoo since I had a relaxer. But don't let the 'r' word scare you. This deep moisturizing shampoo is AWESOME for nourishing you hair as you wash it. And sometimes, you really need to wash your hair and get it squeaky clean while moisturizing your situation. I hope you love it.
Read my full review here.
From Amber
: 
Confixor from Aveda
. It's a liquid gel that mixes well with other products and essential oils and provides strong definition to medium texture hair.
Aveda's Daily Hair Repair
it acts as a heat protectant and leave in and rebuilds compromised hair.
Of course you'll get an Official Natural in Nashville t-shirt! Let the people know where you get all your info from! LOVES IT!
Purchase more shirts here
!