Do you wear mini-twists? Do you get bored wearing your twists down? Below are a couple of styles I wear once I install my mini-twists - Here are a few style ideas.
Ponytail Faux-hawk
Divide your hair into three sections.
For each section, twist both sides of hair to the hair back of your head, then secure into a ponytail.
Center your ponytails above each other to hide the bands et voila! A cute faux-hawk.
Create a hump in the front to give your style a little pizzazz.
Take 3 (or more) sections.
Twist each section from one side to the other. This can be a two strand flat twist (above), or a roll.
Secure ends of flat twists with a hair pin to create a side-swept look.
Preppy pin back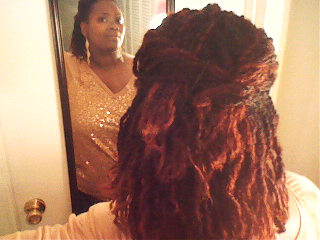 Create a part separating the top and bottom halves of hair.
On the top half, gather twists on one side, and twist back towards the center of hair. Secure with hair pin, or clip.
Repeat on other side. (the pin is showing in the photo on purpose. You can hide yours behind twists.
Chunky Half-Braided Style
Chunky braids at the top make this style a little more appealing.
The key to achieving this look is to pin the twists at the bottom of the braid UP instead of down. That way it looks like you have something of a pin-up when viewed from the back.