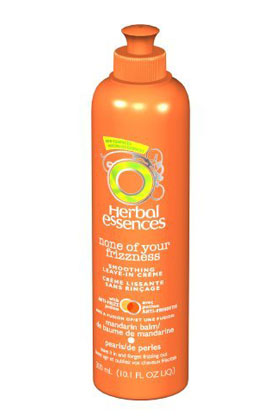 In a quest to find a good leave-in conditioner, I came across Herbal Essences None of Your Frizziness Smoothing Leave-in Creme. I have a few Herbal Essences products, so I thought I'd give this a try. The major selling points for me? The smell and the price. It's under $4 at Wal-Mart. I LOVE a great smelling leave-in conditioner. After washing my hair my favorite shampoo, and conditioning with another brand, I used Herbal Essences None of Your Frizziness Leave in Creme as a leave in for styling. (To see the style tip,
click here
)
Let's start with the good. I like this leave in because it's light, which is what I look for in a conditioner. It makes the application easy. Did I mention I love the smell? Also, this conditioner is water based, so you can use it every day if you want. And what hydrates hair more than water? (That's rhetorical. The answer is nothing. NOTHING hydrates more than water.)
The not so good about this conditioner: The conditioner is indeed water based. So you will definitely need some additional oil to seal moisturize hair. Another con to water based conditioner is that it's wet, so expect some shrinkage or avoid it altogether if you are looking to moisturize a 2nd day style.
Overall, I would recommend this leave-in creme, especially for a post-wash leave-in. But I also recommend using this in conjunction with an oil or oil-based cream for sealing in the yummy scented moisture this creme provides.
Have you tried this product before? What do you think?