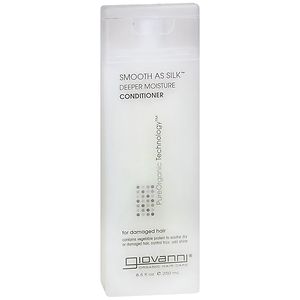 The Smooth As Silk line is not specifically targeted to naturalistas, nor is it an organic product, but the conditioner lives up to its name. The instructions for use suggest that the conditioner be massaged thoroughly into hair after washing with Giovanni Smooth As Silk Shampoo, but the shampoo contains sulfates. Womp. Let's focus on the conditioner.
The conditioner is not as creamy as I prefer, but it gets the job done. The good thing is, the water-based conditioner is good for co-washing. It is creamy enough to coat my hair without running off, but light enough to be easily and thoroughly applied to my dense hair. And it still provides good slip for me to detangle. The conditioner has a light smell (reminiscent of salon products) that doesn't linger. Some deep conditioners can be left on and hair can become overprocessed and break easily when styling. Somehow, the Deeper Moisture conditioner always seems to give the correct amount of moisture. I've even left the conditioner on overnight and didn't wake up to oversaturated and weak hair. That's a major plus for convenience. This conditioner will make a good addition to a hair regimen without changing any other products.
Giovanni Smooth As Silk Deeper Moisture Conditioner is my conditioner du jour. My curls are soft and shiny after using this conditioner, so I did not mind investing in a larger size. I've been using it for a couple of months and I've recently bought a 33 oz. bottle so I'll be using it for at least two more months. I was pleasantly surprised that it worked for the variety of curls on my head, which range from 3b to 4b.
Pros:
Lightly scented

Good slip

Water-based, good for versatile usage
Cons:
Could be slightly thicker, in my opinion

Does not come with a line of additional products